Thursday, February 14, 2013
Friday, December 14, 2012
Thinking about some ideas for my next comic. They start off vague and gain a little weight eventually. There will be a story, I promise, and not just panels of people sleeping or downpours. Well, if I go with either of these concepts.
I've also been reading some short stories that exhibit a mundane environment as a surreal horror element. An empty neighborhood by the sea, a set of houses in the middle of a field, a sandy island covered in willows; all of them brought up some anxious feelings of dread as I read about them. If I can apply some this to my next comic, it would at least be a good exercise at drawing better backgrounds, trees, houses, etc.
Monday, December 10, 2012
Wednesday, June 1, 2011
Posted by

Patrick Dean
at 12:14 PM
No comments:


Thursday, May 26, 2011
Posted by

Patrick Dean
at 12:01 PM
No comments:


Wednesday, October 28, 2009
Saturday, October 3, 2009
Friday, July 24, 2009
I hope just looking at this drawing makes you want to crawl back in bed.
Posted by

Patrick Dean
at 11:18 AM
No comments:


Saturday, July 11, 2009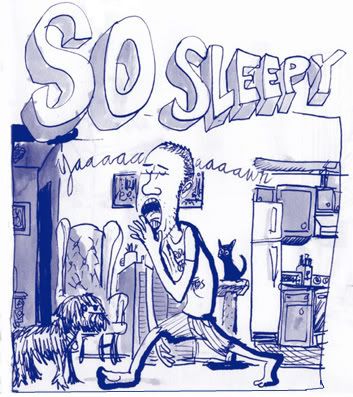 Have I told y'all how much I like a good night's sleep?